Anyone that is not intimately familiar with failure is probably not anyone worth knowing. The failure need not be profound, but facing setbacks and the limitations of planning are part and parcel of the human experience. It's not that tragedy is the measure of a man or that there are no atheists in foxholes, as much as it is that it never hurts to be reminded that no mortal is truly a master of the universe; those that think they are should be feared and not feted.
For the most part, games try to break us from this reality. No death is permanent, there is always a save state to return to and no unpleasantness really must be endured, unless you are in an online baseball league, in which case you suck it up because you'd be a heel to quit and leave your Bad News Bears to the next sucker in line.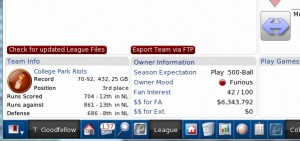 Games that make failure palatable instead of simply frustrating, then, are special. Note that by failure, I don't mean simply losing – losing is just the flipside of winning and in some games, losing is simply a matter of time (Tetris), lack of skill (for me, Rhythm Heaven) or the odds (roguelikes). In these games, mere endurance is the measure of success and even a cheap death by poison in Angband is tolerable either because it comes quickly or because it comes after having seen so much. There is little lost by starting over again immediately.
By failure, I mean the experience of seeing a plan undone, of coming upon an event or situation that forces you to face the fact that you may be losing, even though it's not over yet. Having two or three major cities captured in Civilization. An economic death spiral in Imperialism or Caesar IV. Destruction of your entire main battle fleet in Victoria 2.
A great game lets you witness things come apart, and still go on because…well, the because is the thing. Why do some good strategy games push us to soldier on, while others push us to Load Game?
In the case of Crusader Kings II, the answer seems pretty clear.
(This isn't a review, but given how new the game is, I must insert the disclaimer that Paradox Interactive is a business client, though CK2 is not. As a writer, CK2 is something that needs writing about.)
I've written before about turning points in games, and on the podcast we've talked about the problems of the snowball effect – in both instances, the conversation centers around a strategy game's momentum. Most games, and strategy games are no different 90% of the time, have very clear victory conditions and you move towards them at an irregular rate. Sometimes there is stumbling block to overcome, but a good human player will eventually find a way to account for those and master the system. The game can still be challenging, but game sessions usually follow a similar dynamic where a moment comes and victory or defeat is assured. The narrative power of the game remains, but it is always a tale of triumph over the odds, or over the gods.
Crusader Kings 2, even more than its cousins in the Paradox Development Family, makes disappointment your constant companion. For the last week, my chat windows and social networks have been filled with friends and acquaintances telling me about what the king is doing tonight, and his usual activity is putting out fires or climbing out of an abyss or wondering how the hell he ended up in a matrilineal marriage. And (to my knowledge), except for one instance where a friend did not quite understand all the rules about Crusades, none reloaded to undo a problem even if it was brought about by confusion.
All suffered through, found solutions (or didn't) and dealt with the aftermath. Certainly some of this was curiosity. The game is new, it has much to reveal and for a few people, this was their first Paradox grand strategy game.
Ironically, one of the reasons that CK2 makes failures and setbacks endurable is that, just like real life, there are so many ways the world can disappoint you. An insane spouse – too powerful to abandon – starts murdering courtiers, but this could be a relief after fighting a long civil war against recalcitrant barons. A homosexual king is a headache for your lands, but a heretic king is a disaster. In the real world, mental illness, civil unrest, bigoted families and religious uncertainty are all major stressess that we face, and in CK2 each is something that poses a new, but manageable, challenge to overcome or endure.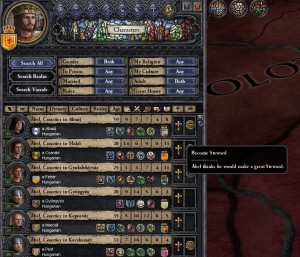 The flexibility of the goals is one of the big reasons that each of the many problems your fiefdom faces seems more human size. Yes, each of the Paradox games (and other grand strategy titles) has a core strength in letting you choose limited goals as you build your way forward. Unite France. Colonize West Africa. Dominate Central Europe. But often a major failure in a Victoria 2 or Europa Universalis 3 can undo or render irrelevant hours and hours of gameplay. Limited ambitions may not have limited costs if the world that surrounds you has a larger appetite. You can recover from disaster, but the context of the games – sustained forward momentum – can make the loss of half your country or a century of revolts or the utter destruction of an expensive fleet the sort of thing that makes you quit or reload.
I've spoken a few times about my current habit of only starting EU3 risky wars in January so I am always close to an autosave. This is cheating, I guess, and would be seen as scum saving in the roguelike world. But the way the game is built makes late and prolonged recovery only occasionally fun. So I've gotten used to keeping my ingame wayback machine ready to go.
Crusader Kings 2 is not entirely about continual forward momentum. It never pretends that your course will be easy. Even a great king could have a son that disappoints, an old friend that betrays or a degenerative illness. Since the game is putatively the narrative of a dynasty more than the history of a country, you find that you are more willing to sacrifice a little land to a brother or cousin if it sets things up for a son or grandson to have a better lot in life. It is not just a matter of delayed gratification; it is a matter of accepting some pain because ultimately it might be worth it. Maybe. Sort of.
You soldier on because the line is strong, there are other generations and maybe the next one will have it a little easier. Your goal for one generation may simply be to let the land heal, for another it could be to take advantage of a military genius, and another may be expanding the defenses. The traits of your family patriarchs or matriarchs become the guideposts for your ambitions and their reigns the bookmarks for your game's progress.
Crusader Kings has always been my favorite of the Paradox series because it is so human sized in spite of the historic and geographic scale. Even some of the grandest schemes boil down to the personal struggles between characters, and when great and amazing things happen from characters you do not control at all, it becomes easier to face the fact that the world is conspiring against all of us, so you can prepare for winter, but not stop it.
Here's an example from my current Scottish game. Weak king dies at 30, leaving his young son in the care of the Duke of Lothian as regent and guardian. Duke has three daughters, no sons, and the most land in the kingdom. New young king marries the eldest daughter, ten years his senior so that their joined lines will finally make House Dunkeld the master of its own kingdom. Turns out, she becomes a strong and assertive Duchess of Lothian and a great power in her own right. She adds to her lands, invades Ireland on her own manufactured claim, pushes claims against weaker Scottish lords and in less than a decade had prepared a beautiful harvest of wealth for the royal couple's son and heir.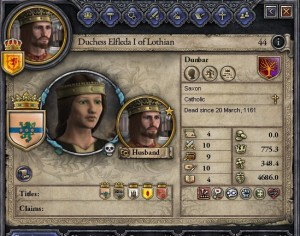 Or she would have if she had not switched her inheritance laws to Gavelkind meaning that, when she died at 44 after a lingering illness, all of her lands and power were divided equally among three minor boys, who now with titles of their own were under the control of regents and far from their father's just and moderating influence.
Great power and potential, all undone because a mother wanted to evenly divided her greatness and now her sons, weak and divided in a decentralized monarchy, must face the vengeance of those from whom she took those lands and titles they now hold. One of these hated boys will soon be king.
I have a save point where not all of this happened, at least not yet. The Queen/Duchess still lives, is still mistress of a third of the kingdom and is still kicking ass. With more time, maybe her sons would be stronger and better able to face the whirlwind that history has not readied them to reap.
But then it could also go so much worse. At least no one has been excommunicated.
No, this is a bump in the road. It's only barely the 12th century, England is too divided to be a threat right now and there will be other sons and other wives and other civil wars. This king might not get through this crisis, and the next king might end up deposed altogether (seriously, no one likes my son). But even with a single duchy and a legal claim on the Throne of Scone, the line continues and there will be a second chance for House Dunkeld.
Things don't always get better, and it's not simply about the journey making things worthwhile. No, the ending is not the story, but endings and failures are important and should be recognized not as growth experiences but as wounds we cope with. Many great failures come on the heels of amazing successes, the deepest sadness comes from the realization that some deep joys are now lost forever.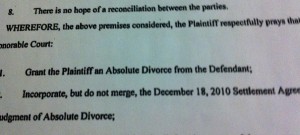 But like The Sims, Crusader Kings is a great strategy role playing game because it reminds us that every day is a victory on its own because you still breathe. You may not liberate Jerusalem for the Pope, but isn't your daughter coming along nicely? The Mongols are coming and will not stop if you put up a brave front, but you have inherited a claim on a small Irish county far from war and maybe you can defend civilization there.
The comforting Christian saying is that God never gives us a cross greater than that we can bear; we are born to adversity but also born to a community and a faith that make these weights easier. I am not sure that this is really the case; I have known too many good and beautiful people brought low by a harsh and uncaring world, and sometimes by a harsh and uncaring community.
But Crusader Kings 2 is almost persuasive in its case that as bad as things are, this too will pass. If you keep your wits about you and your friends close by, then maybe you can make it through Mongols, Moors, Black Death, Waldensian heresies, grabby Emperors, syphilitic heirs, sterile wives and the Irish.
And if you can't, then at least you have a damned fine story to tell.