2013 is probably the hardest I have worked in any year since grad school. It was a mad rush from beginning to end, professionally, which was kind of exciting.
It was also kind of annoying since it seems like there is never any down time in the gaming industry any more. There is always a convention, a tour, a major launch, a keynote, an Apple thing, and this year we had new consoles. All of which made my year quite a bit harder as a PR rep than it should have been, but it's nice to work hard, even if sometimes it feels like you're beating your head against a wall.
Of course, the blog suffered. And not just because I was absolutely spent at the end of the day. Evolve was fortunate enough to represent some pretty great strategy games, and since I avoid blogging about our clients to avoid any conflicts or confusion that meant that I couldn't write much about how amazingly difficult Wargame: Airland Battle is, or how Europa Universalis IV reinterpreted the idea of monarch agency in history (actually, I might write that one since it's proper criticism and not review-ish) or about the weirdness of Eador: Masters of the Broken World, Card Hunter, or a range of other pretty neat games on our client list.
It's not that I didn't do any gaming.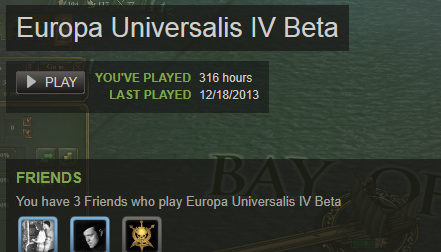 Yeah, the EU4 beta was my life for a while. But when I did game, it was comfort titles and occasionally I'd dip into an iPad game like Road to Moscow or Brief History of the World. I put some hours into Rome 2 and XCOM Enemy Within but had no energy to blog. As I noted in my last post THREE MONTHS AGO, I have been doing a lot more reading, and it's been excellent.
I already know that 2014 will be different because I have some big changes personally and professionally coming up very soon, and I'll talk about them when I can talk about them. I will be playing more, I will be writing more, I will be doing more multiplayer stuff – my friend Stefan "Desslock" Janicki (ex-PCGamer RPG columnist) and I are always planning a MP campaign of something, but this time we'll make it work.
But I suck at promises, so I won't make any. I do apologize to those of you that keep coming back for regular updates and finding nothing. I am torn between my desire to just get things out and to save stuff for a larger project I am working towards. What I really need is an editor that will make me do something – anything.
Hell, there are probably a dozen half-written blog posts on my computer, inspired by some of the great strategy writing that has been written elsewhere this year. I'm fortunate enough to be friends with Bruce Geryk, Tom Chick, Rob Zacny, Paul Dean and Rowan Kaiser – among others – and one thing I would love to do is curate examples of great strategy writing that aren't just "So Tim Stone was brilliant again this week". (Feel free to tweet me links, I guess?)
So the traffic for the blog was down this year, naturally, but podcast traffic is up and I am very happy about that. As usual, most people get to Flash of Steel by searching for
Troy Goodfellow
Three Moves Ahead (or variants)
National Character (or variants)
Fallen Enchantress
Imperialism
Tropico 4
And now, the Troy Goodfellow Google Auto Complete Roundup – with answers!
Troy Goodfellow Twitter – You can find that here. I use Twitter a lot. It is my number one social communication tool, and I've made some neat friends over it.
Troy Goodfellow Divorce – Yep. Divorced. Nope, not talking about it here. My ex-wife remains one of the best people I've ever known.
Troy Goodfellow Formspring – Formspring was a place where I answered over 1000 questions about almost everything. They are shut down now, so I use Ask.
Troy Goodfellow Blog – If you can read this, you are here.
Troy Goodfellow Crusader Kings 2 – Probably my favorite strategy game. I wrote a little about it here, last year.
Troy Goodfellow Evolve PR – My current employer. I work with some awesome people.
Troy Goodfellow National Character – Some of the best things I ever wrote, though the American essay is terrible. Should update it.
Troy Goodfellow Stutter – Glad you noticed! Yeah, I stutter sometimes, especially when I'm tired. It was much worse when I was a kid. I am mostly over it, but I can still have issues even with prepared speeches when I am under stress.
Troy Goodfellow PC Gamer – For about six months I was the strategy game columnist for the US PC Gamer, and did some reviews for them as well. I worked with Logan Decker, Dan Stapleton and Evan Lahti and would do so again if I had the chance. When I moved to PR, I recommended Rob Zacny take my place.
By the end of the week, I will have a blog post on a graphic novel I have been reading and what it tells me about game design, film and the absence of the divine.
Happy New Year.