When I heard that my old friend Rod Humble was making a game about the spread of religions, I knew I was going to be playing it. Rod has always had an interesting approach to game design, almost more interested in posing questions (whether about history or emotional connection in games) and I had high hopes that Cults and Daggers would be the same sort of mind-twisting, self-reflective sort of game that I came to expect from him.
Of course, when you're selling a game on Steam for 30 dollars, there are limits to how "out there" you can go, and Cults and Daggers is ultimately a quite conventional territory control game that uses persuasion and secrecy instead of armies. It's underdocumented (I'm not sure exactly what wars do, or what happens to the map between ages) and the UI is a mess. But it does have interesting ideas, and a quite old-fashioned style of play. Some people have been able to use its thin religious veneer to reconnect with their personal ideas of faith. I was never able to make that leap.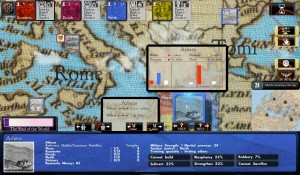 It's probably not surprising that I couldn't quite connect with it. Religion in games is generally a matter of special buffs or general harmony. In Civilization IV, a multifaith empire that controlled all the Holy Cities was an unstoppable force of culture and gold. In Civilization V, you pick generic religious "beliefs" if you found a new faith, but the most powerful ones are, again, related to bringing in gold or special buildings. Our games at Paradox (the Crusader Kings and Europa Universalis series) give every religion an attribute or two that, usually, give you bonuses or new game experiences.
But Dominions is about becoming a god, not founding a religion. The temple in Rise of Nations expands your boundaries and increases tax income, but is not a building of "faith".
So the more I think on it, the more I think that Cults and Daggers is not about faith at all. It might be about religion, but it's really about fear. [Read more →]