This has been a bit of a crazy summer. Between all the travel, making sure that Europa Universalis IV was launched smoothly (it was a client, and I am thrilled that people seem to like it) and staying on top of everything else in the gaming world – plus having a social life with my circle of interesting friends…
Well, not a lot got written. But a lot got read.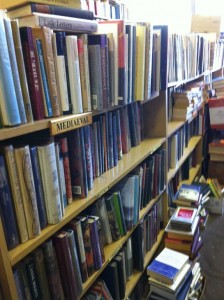 I am blessed and cursed by being surrounded by bookstores. The picture above is Ten Editions Books, which is right in my neighborhood. Like, I pass it almost every day. There are boxes on the floor, used books about almost anything for sale, and if I go in I almost always drop fifteen or twenty bucks on a hardcover something or other. I have no room for the hundreds of books I left in Maryland, but here I am adding a new one every other week…
Over the past four months, I've read books about Zulus, Napoleonic diplomacy, Simulating War (that was a gift from a reader) and Ottoman administration at the empire's peak.
And now I have Massie's Dreadnought to re-read (it's been almost 20 years since I last read it) and a history of The Boer War to last me the next little while. Plus assorted things on Mary Tudor, English colonial war, etc.
As I read Washing of the Spears, I did what I often do when I read a really good history book – I thought about whether there were any games that captured what Morris was describing. It's a big book, and it describes a lot. I mean, there were wargames about Isandlwhana or Rorke's Drift – maybe even the Siege of Ulundi. But my mind kept going back to King of Dragon Pass; I convinced myself that a game about pseudo-barbarian Viking-ish people was the best game ever made about the Zulu nation. Why? You have small clans that interact with each other regularly, but rarely fight to extinction. Your goal as a player is to turn your tribe into a kingdom, which generally means upsetting the apple cart of harmony somehow. Your economy is measured in cattle and your rule is largely guided by how well you know or can exploit the superstitions and religion of your clan. In effect, you are a white Shaka, though less driven by war and a hunger for revenge – ideally.
I do love when people connect the books they read to games they are playing. Bruce Geryk's articles on War in the East are only enhanced by his continual references to David Glantz's amazing books. Well, they are also enhanced by being written by Bruce, but that's another matter.
I would like to try to draw connections between what I am playing and what I have read like that, but it usually doesn't work out. My memory is weird and I usually make those connections at odd and inopportune times. However, I am fully capable of reading a book and asking which games it reminds me of. For example, Napoleon's Wars is all about the international alliance structure of the early 19th century and reads just like the multiplayer games of March of the Eagles that I have played; personal goals, short term alliances, some long term friendships and a lot of waiting for the right moment.
I hope that the more I read and write about what I am reading (I do like to tweet about the books I am reading while I drink a pint and watch baseball), the more likely I am to stay engaged in the gaming side of things. Given how many recipes I have on my desk at the moment, this may mean a Cooking Mama article, at which point you can all leave.
Geel free to suggest books – new or old – but I won't commit to reading any of them. I already have way too many.