Monday night was a twofold attempt to figure out games and being stymied.
On the computer end, it was Paradox France's Pride of Nations; it's not that it's complicated as much as it is that I just didn't have the patience last night to sit through five tutorials that mostly amounted to me scrolling through five point font to learn different systems. I am looking forward to being in the mood, because it's a game I've been looking forward to since I saw it in January.
Then there was trying to figure out how to play Republic of Rome solitaire. That wasn't much more successful, probably because my recollection of the normal rules was iffy at best.
As I looked at the board, though, something hit me. This is a terrible board.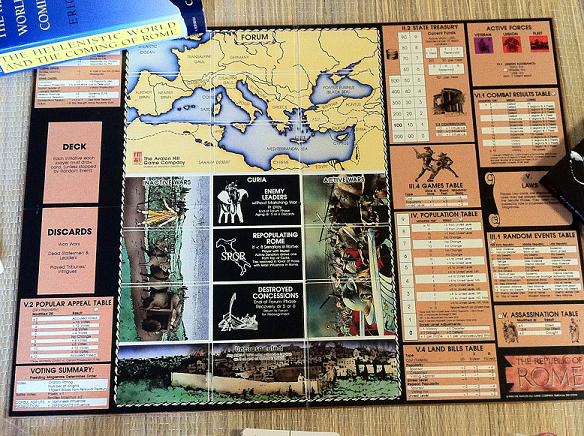 Republic of Rome's board is a monstrosity by any reasonable definition of style or art. There are die roll tables on both sides, six boxes right in the center of the board under the map for different war and political piles, spots for discards as if you couldn't just stick those cards somewhere off the board. This is a game with a lot of different types of cards and those cardboard chits that I know I will lose but everything in the game has to go somewhere on the board it seems.
But, to be fair to RoR, there is a lot of information to track. Population, foreign wars, treasury, legions available…you can argue whether or not you need every die roll chart on the board, but you would just end up looking at the manual all the time anyway, so this saves time. This is a complicated game with a lot going on even beyond the real focus of the game – the political battle between factions.
There is no Eurogame elegance to the look of the Avalon Hill bookshelf games, but then there is no Eurogame elegance to the rules either. It's astonishing how small the board is considering how much it has to represent. An inch or two in both directions would make it less likely your stack will bump into each other and become one of those chit soup messes that happen from time to time.
Anyway, I will be going back to both Pride of Nations and Republic of Rome this week. Both have user issues, but at least Pride of Nations has a built in tutorial and the errata will be taken care of in a patch.